School Lunch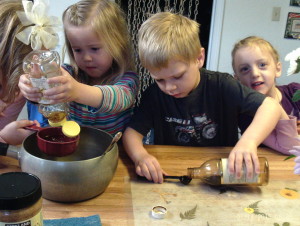 Every day we work hard to feed your child's brain and body with whole grain, unprocessed  foods that taste good.  Our meals are made from scratch in our school kitchen and served on glass plates with cloth napkins.  We serve well made traditional foods and also try many new things, often from other cultures. The children help prepare, serve and care for the environment after the meals.  Lunch time is for socializing, etiquette and is served family style usually with fresh flowers on the table. 
Lunches from Home
We use real plates and napkins for our school lunch to reduce waste and would like for lunches from home to also be as waste free and healthy as possible.  We would like for all packaging sent to be reusable, uneaten foods will be composted or returned home (this will help you know what your child is eating/not eating).  We also ask that when packing lunches from home you include fresh fruits/vegetables and whole grain items.  We would be happy to ma
ke suggestions if you like.
Are your thinking "my child won't eat that" ?
Many parents are concerned that their children won't eat the healthy foods we serve.  Fear not, we are experienced in preparing and presenting foods in such a way that they are appealing to your children.  Children are also more likely to try foods that they have assisted in preparing and are encouraged when their peers are readily enjoying it.  Children are also more apt to try new things when they are not in the presence of a parent.  If you ever have any menu suggestions, we would love to hear them!
Peanut Free Policy:
Have you ever made something with peanut butter then washed your hands, left the kitchen and thought to yourself "why do I still smell peanut butter?"…I have.    The reason for this is that the oils and residue from peanuts does not wash away easily with everyday soaps and cleaners.   Peanuts are also one of the few food allergies that can cause a life threatening reaction without ingestion, simply through contact or inhalation.  At this time nearly 10% of our students have a peanut allergy.
It is for these reasons that we have adopted a peanut free policy for our school.  Please be sure that when you are sending snacks/lunches to school that they do not include peanuts in any form.  If you would like to discuss this further or suggest an exception, please just let us know.